Paulo Baruki is a trendsetter in the world of architectural design of mixed use projects in Latin America. He has developed a style that intertwines the natural beauty of the surrounding landscape with the sophistication of the urban environment. His innate ability to produce such a harmonious mix has made him an extraordinary visionary in the field of architecture and design. In today`s world of huge skyscrapers and glass windowed buildings, Baruki has rediscovered our humanist past and incorporated them in his designs. Through diligence and hard work, Paulo spent 10 years honing his skills while developing his unique style. In the year 2000, Paulo took the ultimate risk and PBA was born. Like all new businesses work started out slowly, however, by word of mouth, PBA became recognized as a young invocative company.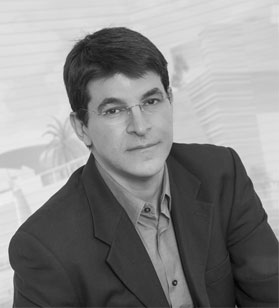 Success came so fast that PBA expanded and a partnership was formed with Fabio Carlos de Souza, a progressive economist. Fabio took control of the operational and administrative areas of the company. Fabio`s contributions to PBA has been immeasurable. Not only does he facilitate the economic decisions, he has the ability to recognize different skill sets and is instrumental in putting together each team needed for a particular project. These contributions frees up the time necessary for Paulo to oversee every project no matter how large or small it is. Using a team of highly skilled professionals PBA has incorporated the methodology of Total Quality. Every new project undertaken is a totally independent design challenge.
The first and foremost philosophy is that the client`s wishes and dreams come first. With pro-active attitudes each member of the team openly interacts with the clients while constantly adjusting and integrating all facets of the project such as design, deadlines, budgets, etc. PBA guarantees a total commitment by senior staff, managers and all workers to produce the highest quality finished product.
PBA believes that architecture has the power to inspire, elevate the spirit, to feed the imagination while creating new concepts and methods that connect present and past, tangible and intangible. PBA thanks all our former clients with whom it was a privilege to work for. While at the same time we hope to form new relationships with perspective clients in the future.